This PPPoker review will help you understand what features, strengths, and peculiar features the room has. It is this platform that today leads the Asian poker market, but is popular not only there, but also far beyond the borders of China and its neighbors. For example, for real money you can play against Canadians, Americans and Europeans.
About the essence of PPPoker
PPPoker is not just a poker site. Firstly, the room, first of all, offers a mobile application for the game (although now the desktop version is also available for users). Secondly, this room has given a serious impetus to a new branch of online poker development.
How it all happens here:
The user downloads applications for Android or iOS.
Each player has the opportunity to create a club where you can invite friends.
The owner of the club receives game chips (for real money players) and distributes them among the participants.
You can create poker tables in such formats as Omaha, Holdem, OFC.
At the same time, the room has quite familiar software with filters, settings, statistics with output to tables.
What opportunities did the online poker room offer?
Users quickly realized that a room with a similar work structure allows you to create clubs that are almost similar to offline ones. Money before the game is exchanged for chips, and then the chips can be transformed back into real money. Access to the club and its games is organized strictly by invitation, which avoids the presence of random people in them. Thus, private games in live casinos have found their alternative in the online world.
It is worth mentioning that the game of chips is legal even in those countries where online poker is a "gray" niche. Due to this, the list of powers is expanding, whose representatives are free to play on the site. Among such states are Australia, USA, India, China, Malaysia and others. Players are available with various limits and formats, as well as convenient methods for carrying out transactions in a particular region.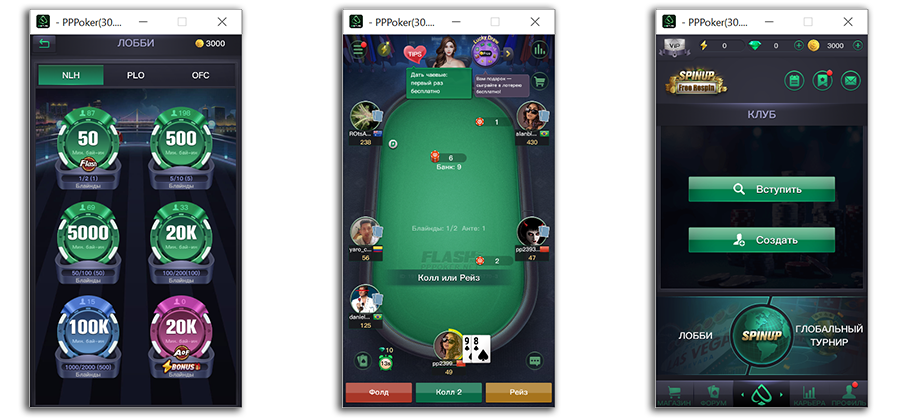 However, PPPoker has become a leader in the Asian region not only thanks to a fresh look at the online game. Users like the traditional rake structure, optimized software (including its multilingualism), effective counteraction to bots and other manifestations of dishonest game, as well as the organization of high-profile events online and offline, which attract players, in particular popular ones, from different countries.
About clubs
Now the number of clubs on the site is at least several thousand. The process of creating them is almost free and does not cause much difficulty. The player himself can search for a suitable club, but this is not always effective and risky enough. Therefore, many poker players turn to intermediaries who are professional in business and offer the best selection of clubs for a particular player.
About financial transactions
The deposit process involves the following steps:
You choose a club, specifying the exchange rate adopted by its owner, as well as the currency.
Then you need to send an application for a desire to enter the club, as well as confirm your nickname and account ID.
Do not forget to read the list of available payment methods and their conditions.
Deposit funds yourself or through an agent to the club wallet, get game chips in return and start the game.
To make a cashout, you must first indicate your nickname, account ID, payment method, the number of chips for cashing out and wallet data. On this our review of PPPoker came to an end, we wish you a successful game!