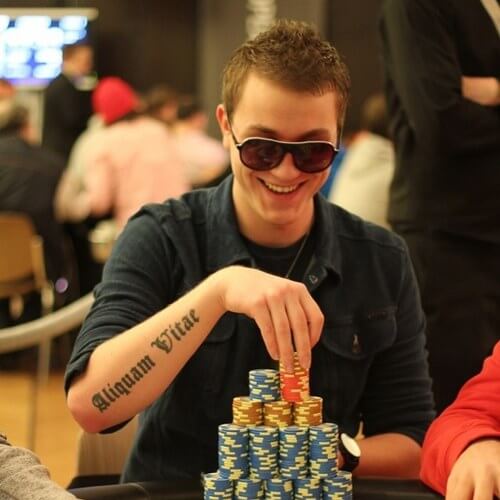 I, Roman Romanovsky - a professional player from Ukraine, play under the nickname "Romeopro". During a certain period of my career, I was considered the strongest poker player of my country in the CIS / MTT tournaments.
In 2014, I took second place among all the players in terms of profit for the first half of the year. Now the total profit has exceeded the mark of 4 million dollars.
June 2014 was for me the most eventful month of victory in my gaming career. Then I managed to win a major online tournament with a buy-in of $ 500 at 888poker, and another tournament series on Poker Stars with a ticket at 265 dollars. On June 30 of the same year, I took second place in the tournament at Full Tilt Poker - I got about $ 90 thousand as a prize.
By the way, in 2013 I set for myself a difficult task -  earn 111 thousand dollars in just 66 days of playing poker for real money . And I got this idea on 100%. Such challenges of the players inspire ordinary poker players to earn money on the game.
In general, I pay more attention to online poker. I also occasionally participate in WSOP Europe and similar tournaments in Las Vegas.
I also note that I often hold marathons, during which I earn money and give part of it to charity. One of these events was held from August to December 2015 - then I won 69 thousand and gave half of the amount to those in need.
After that I continued to repeat similar marathons and other players connected to them.  My next goal is to earn a million dollars and give it to charity. It seems to me that after such an achievement, I am ready to end my career.
I also attend offline tournaments and poker games in Russian-speaking countries. And I like to argue with other players not only for money: once in a dispute I lost a fashion show in a turquoise dress right in the game room. And he kept his word, dressed up right in front of everyone 🙂
Some interesting facts
It is also worth paying attention to some interesting aspects of Roman Romanovsky:

Roman Romanovsky does not eat meat;
In addition to playing for real money, the player is also involved in coaching;

Ukrainian likes to bet on himself. So, for example, he bet more than once on the account of his profit relative to other poker players in MTT tournaments.