Registration Titan Poker is not much different from creating accounts on other sites, but there are some nuances. A registered player gets access to all game disciplines of the room and receives incentive bonuses. How to register on this platform and not miss anything important - read on.
Registration Instructions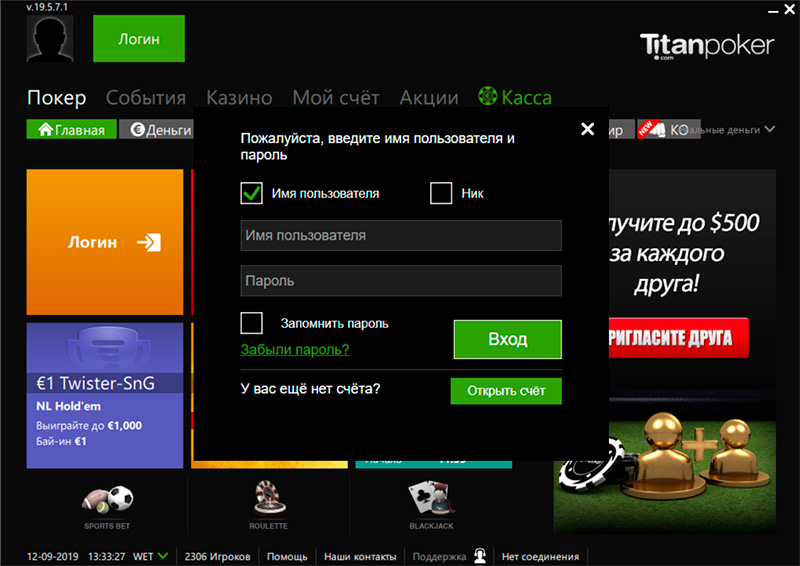 In order to register at Titan Poker and get access to the content of the room, you need to download and install a special client on your PC or smartphone. 
PC installation
To register an account in Titan poker via computer you need:
Clear cookies in the browser. This is to ensure that the site functions without fail. If you do not perform any operations during registration, there is a risk that you will not be able to use the room loyalty program.

Download the app. The download button is located on the main page of the official website. If you cannot access it, you can use any proxy server and mask your IP address. 

Install the client. Run the downloaded file and follow the installation instructions. You will need to choose a convenient location for the program on the computer and agree with the rules. Once the installation is complete, you will be able to register a new account.
In order to register in the room, you need:
Run the client;

In the form for authorization, select "Open Account";

Fill in all the fields with real data in order to successfully pass verification.
Upon completion of the account creation, the room will give you the name of the player. It's best to record it somewhere so as not to lose access to your account.
After registration, you can go to your personal account, select the desired nickname and start playing.
Smartphone Installation
Titan Poker also supports installing the application on a smartphone. To do this, go to the official website of the room and download the client for Android or IOS - the device will be detected automatically. Be sure to allow your smartphone to install applications from unknown sources. After installation, you can either register directly there or do it on a computer.
Important points when registering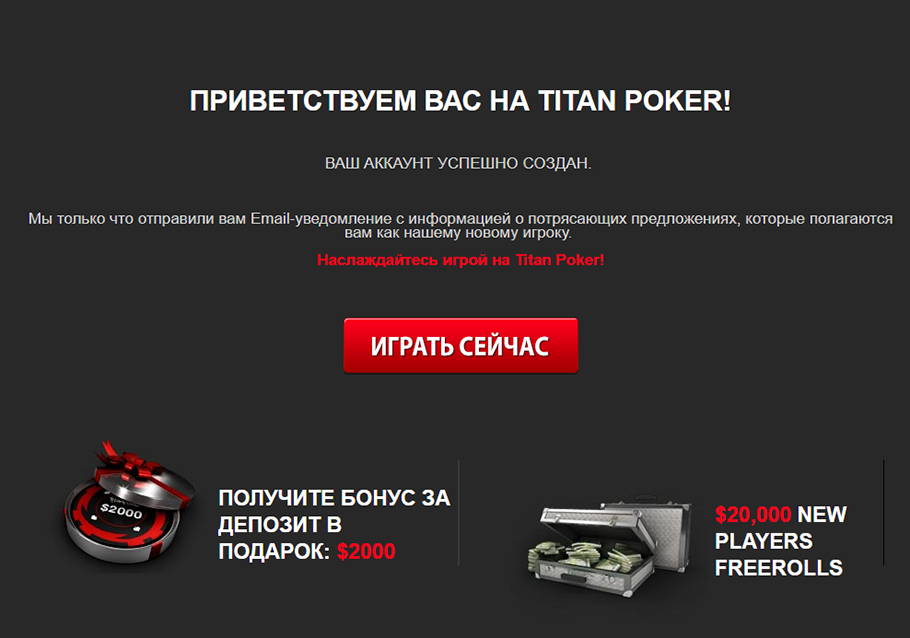 As we said, the registration process itself is quite easy, but I would like to talk about some of the nuances that will help to avoid problems.
You can register only one account. Multiple registration of accounts on the platform is prohibited, so you may be blocked for re-creating the profile. After that, all funds earned in the room will be lost.

Real data. When registering, it is important to enter genuine data, because when you withdraw funds from you, scans of identity documents may be required. If the information from them will differ from that indicated in the profile, you will not be able to pass verification. Do not be afraid to provide reliable data - Titan Poker encrypts information about its users and no one has yet been able to crack the data and use it for their own purposes.

Password is complicated. To increase the security of your account, make sure that your password is quite sophisticated. Do not use available data such as date of birth, name or phone number when creating it. A combination of letters of different registers, numbers and different characters is best suited for a password.
Frequently asked Questions
When registering, many players have similar questions - we have collected several of them.
Is it possible to play Titan Poker without having to register and verify? You won't be able to play without registration, the room has no guest entrance function. You can play without verification, but this makes the game less reckless and useless, because without it you cannot withdraw money from your account.

How to play in the room, being in Ukraine or Belarus? Unfortunately, the game in the room is not available for citizens of Ukraine and Belarus: since 2016, it does not support the registration of new players from these countries. Moreover, if you try to specify another country in your profile, they will block the withdrawal of money from your account.

I forgot my password: what to do? If you have forgotten the password for your account, it can be easily restored. To do this, find the "Forgotten password" button in the authorization form. You will be required to enter your e-mail, where an automatic letter with instructions will come.
Now you know how to register for Titan Poker and what points to observe in order to open all the room's features. Now Titan registration should not cause any questions.