Предлагаем обзор ПокерОк – достаточно молодого и инновационного (по утверждению разработчиков) рума. Хотя на самом деле покер-рум не так уж молод, так как представляет собой ни что иное как ребрендинг комнаты LotosPoker, которая успела проработать на рынке азартных услуг более 8 лет. GGPokerok, как и его предшественник, особо популярен среди игроков СНГ и Азии.
Room Features
When registering, do not forget to enter the promotional code and get a bonus in 200% on your first deposit (the bonus extends up to one thousand dollars) and rakeback up to 100%!
And this is not the only advantage of the room, among others:
Convenient downloadable client with a nice and accessible interface;
A wide selection of payment systems not only for depositing funds, but also for withdrawal;
Many beginner players willing to share their money with you;
Russian-language interface, Russian-language chat and Russian-speaking support;
Regular promotions, giving the opportunity to receive additional bonuses;
Rake races for a great cashback;
Multilevel program of motivation of regular customers.
Why do players choose PokerOk?
The GG Network, of which the poker room is a part, has established itself in the gaming services market from the very best side. An impeccable reputation guarantees high-quality software, transparency of the rules of the game and the security of all financial transactions.
The following factors speak in favor of PokerOk:
A wide range of types of poker, including rare and exotic;
Qualified technical support service;
Attractive bonus program;
A large number of players, including beginners;
Progressive software that guarantees stable operation even on weak devices.
How to start playing
Before starting a game on PokerOk, it is advisable to clear the cookie history in your browser. The default way to play is through an installable client. There are versions of the program for a personal computer or mobile device.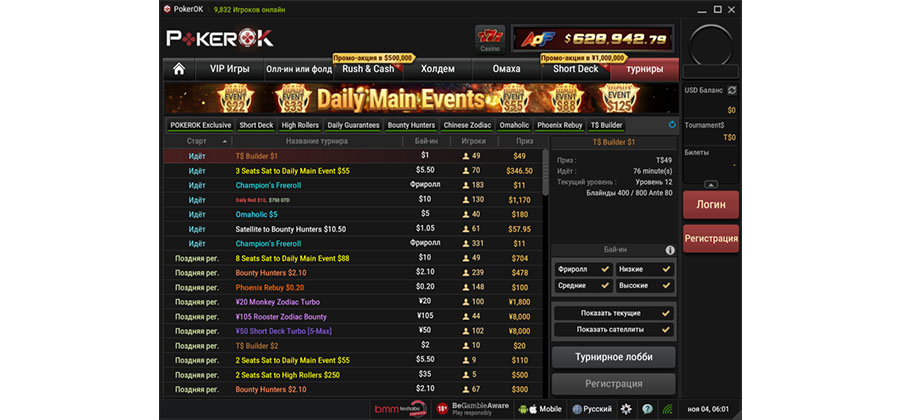 The system independently determines the parameters of the device from which you went to the site and offers the appropriate installer after clicking on the Download App banner on the main page of the site.
Depending on your browser settings, the installation will start automatically after downloading the file, or you will have to initiate it yourself. The entire installation procedure takes several minutes, the user can select the installation path and interface language. There are no other options during installation.
When you first start the client, you will be asked to log in or go through the registration procedure. If you already have an account, do not try to register again - this will lead to account blocking!
If this is your first time meeting PokerOk, carefully and honestly fill out all the fields on the registration form. Be sure to include the current email address - this will be needed to confirm registration.
Enter the promotional code in the "Bonus code" column, if you have one - in case you forget to do this, you will lose the chance to receive the bonus irrevocably!
By filling out the form, expect a letter from the room to the specified e-mail. As a rule, the message is not long in coming. Click on the activation link or copy it into the address bar of the browser. On this registration is completed, as well as a brief overview of PokerOk.